HON'BLE SRI JUSTICE AKULA VENKATA SESHA SAI
JUSTICE, HIGH COURT OF ANDHRA PRADESH, AMARAVATI,
AND
EXECUTIVE CHAIRMAN, A.P. STATE LEGAL SERVICES AUTHORITY.


---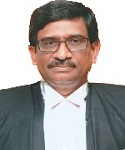 Born in the year 1962 in an Agricultural and Freedom Fighters' family at Bhimavaram, West Godavari District. Had his primary education in Municipal Elementary School, Bhimavaram and Higher Education in Luthern High School, Bhimavaram and Intermediate in K.G.R.L. College, Bhimavaram and graduation in D.N.R. College, Bhimavaram and B.L. Degree in Sir C.R. Reddy College, Eluru, West Godavari District (Andhra University). Enrolled as an Advocate on the rolls of the Bar Council of Andhra Pradesh on 03.07.1987 and joined the Chambers of Sri P.Rajagopala Rao and also worked in the chambers of late Sri P.Raja Rao. Actively Practised in Civil, Criminal, Services, Constitutional and almost all other branches of Law. Had developed his independent practice with in short span of time and extensively dealt with number of cases, covering all branches of Law. Deeply interested in philosophy, culture, music and education. Was Standing Counsel for Municipal Corporation of Hyderabad and was a panel Advocate for the State Bar Council and was an Advocate for the State of Andhra Pradesh in the Suit pertaining to Polavaram Project instituted by the State of Orissa in the Hon'ble Supreme Court. Elevated as Additional Judge of High Court of Andhra Pradesh and sworn in on 12.04.2013. Appointed as Judge of the High Court of Judicature at Hyderabad for the State of Telangana and the State of Andhra Pradesh and assumed charge as such on 08.09.2014.
Appointed as Executive Chairman, Andhra Pradesh State Legal Services Authority on 13-03-2023, vide notification in G.O.Rt.No.290, Law (L, LA & J-Home-Courts.B), 13th March, 2023.